Because of questions raised about the supply of airline pilots and aircraft mechanics meeting upcoming demand, the FAA Reauthorization Act of 2018 included a provision to study the aviation and aerospace workforce of the future, including the current and future supply of people in the workforce. In May of 2023, the U.S. Government Accountability Office (GAO) published their report on the aviation workforce.
The overall summary of their findings goes something like, "the current demand for pilots is strong, and maintaining enough aircraft mechanics is challenging. In response, the industry is raising pay, and airlines are creating flight schools."
Let's break that down a little. The GAO examined data for 2017 through 2022 (the most recent data that was available). They also examined the government and private sector aviation forecasts, reviewed federal laws and regulations as well as rulemaking documents, and interviewed FAA officials and representatives from 25 aviation industry stakeholders (such as airlines, collegiate flight schools, maintenance schools, labor unions, and industry associations).
According to the GAO, current pilot supply grew during the years examined. Enrollments in training schools have also increased in recent years. They state "uncertainties surrounding future demand" make clear forecasts difficult, but because of the mandatory retirement age of 65, the number of pilots in demand may increase in the next 20 years. The data they examined indicated a strong current demand for pilots. Regional airlines have had a particularly difficult time meeting that demand, to the extent that, according to them, it has affected their operations.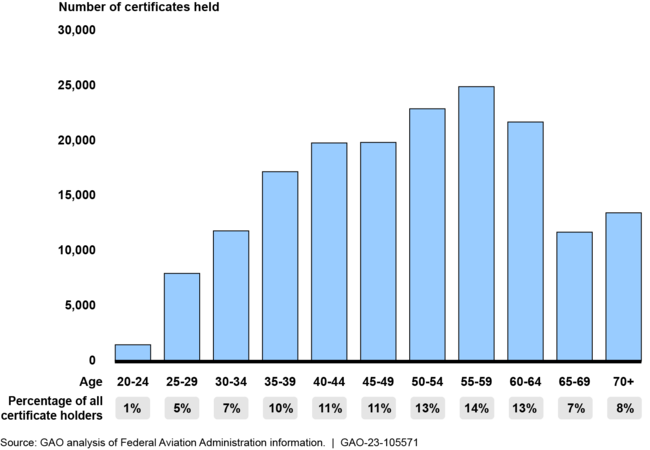 The number of newly certificated aircraft mechanics also grew from 2017 to 2022. However, knowing how many mechanics join or leave the industry each year is difficult to track. According to aviation businesses interviewed, it has been challenging for them to retain enough mechanics.
To address these shortfalls, airlines and repair stations are increasing pay for pilots and mechanics and offering bonus incentives for new hires. In one case regional pilots got a 73% pay raise, and while more modest, the Aviation Technician Education Council (ATEC) reported the entry-level pay for a certificated mechanic rose 18% from 2020-2022. Some airlines are also creating their own flight schools (United Airlines and Republic Airways, for example). The industry in general is working to draw young people to aviation careers using grants, pathway and apprenticeship programs, and curriculum and outreach programs in high schools.
What does this mean for you? The aviation industry will continue to be strong. As baby boomers continue to age out of U.S. passenger jobs and demand for pilots remains high, new pilots will receive more and more assistance and starting pay will increase. Aircraft mechanics are also in demand, and in addition to raising pay, airlines and repair stations are creating pathway programs to attract and retain mechanics as well as paid apprenticeship programs to draw new students. The future looks bright for young aviators.