"Did you know that women ruined aviation?" asked the examiner.
I stared at the man across the desk with a blank look, not sure if I should laugh or cry. It was my instrument rating oral exam, and I was as nervous as I always am before a test, trying to keep my sense of humor while panic closes in.
"Back in the '60s, when they allowed women to fly in the military," he continued, "airplane designers had to reconfigure the cockpit just to accommodate them. They even lowered the standards so they could fly."
"I should have been flying back then," I joked, trying to lighten the moment. While the examiner did not laugh once during our three hours together, I did survive the exam and earned my rating that day.
The moral of the story? Hang in there, keep punching, and don't let 'em see you sweat. In ten years of flight training, from age 40 to 50, I took five oral exams, two which I failed the first time and had to retake.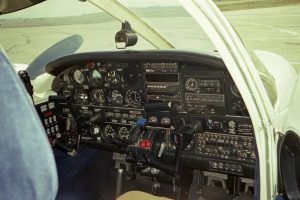 The oral exam for my multi-engine rating began with a weight and balance problem, based on our upcoming flight. My examiner was a big man with tortoise-shell glasses who wasn't interested in small talk. Since he left the room before I could ask his weight, I had to guess. I was certain he wouldn't want me to underestimate it, since that could be dangerous.
His upper arms looked large, and a "bay window" hung over his belt. Read More »