Have you ever thought about taking you're flying career to the next level and becoming a Certified Flight Instructor?  Well, today we are going to take a quick look at some of the characteristics and responsibilities that and aviation instructor must possess. Many students view an aviation instructor as an authority, so it is important for an instructor to project a knowledgeable and professional image at all times.
One of the responsibilities of a good flight instructor is maintaining a high level of professionalism, which relates directly to the instructor's public image. Characteristics of an instructor's professionalism include:
Sincerity. Any facade of instructor pretentiousness, whether it be real or mistakenly assumed by the student, will immediately cause the student to lose confidence in the instructor, and little learning will be accomplished. Anything less than sincere performance destroys the effectiveness of the professional instructor.
Acceptance of the student. The professional relationship between the instructor and the student should be based on a mutual acknowledgment that both the student and the instructor are important to each other, and both are working toward the same objectives. Under no circumstances should an instructor do anything which implies degradation of the student.
Personal appearance and habits. A flight instructor who is rude, thoughtless, and inattentive cannot hold the respect of the students, regardless of his/her piloting ability.
Demeanor. The instructor should avoid erratic movements, distracting speech habits, and capricious changes in mood.
Safety practices and accident prevention. A flight instructor must meticulously observe all regulations and recognized safety practices during all flight operations.
Proper language. The use of profanity and obscene language leads to distrust, or at best, to a lack of complete confidence.
Self-improvement. Professional flight instructors must never become complacent or satisfied with their own qualifications and ability.
As a flight instructor you will want to strive daily to practice the items in the "Instructor Do's" list , and do your best to stay away from the "Instructor Don'ts" list. From the Aviation Instructors Handbook (FAA-H-8083-9A):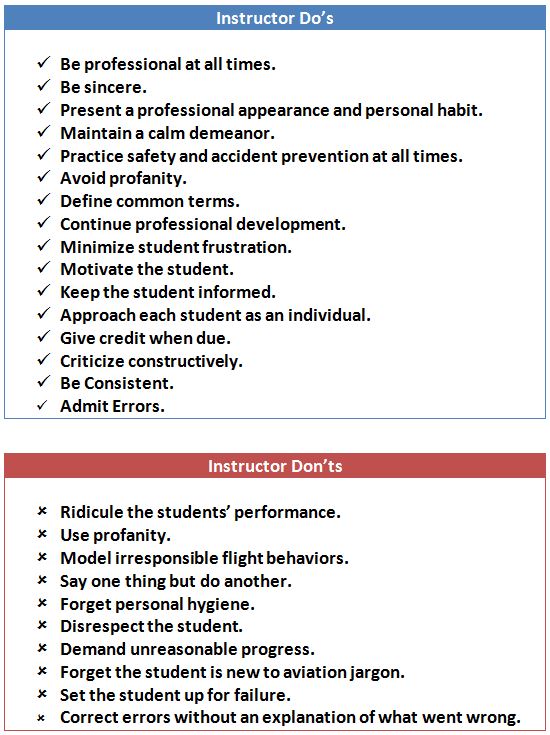 One "don't" to make mention of; personal hygiene goes both ways. Nothing's worse then a couple people stuck in a small plane who haven't showered!
An aviation instructor must also be self-aware of numerous responsibilities. There are five main responsibilities of an aviation instructor.
Helping students learn.
Providing adequate instruction.
Demanding adequate standards of performance.
Emphasizing the positive.
Ensuring aviation safety.
To be an effective instructor you will need to maintain a high level of student motivation by making each lesson a pleasurable experience. It's important to realize that people are not always attracted to something because it is easy. Most will put forth the required effort to produce rewards such as self-enhancement and personal satisfaction.
As an instructor you should make learning to fly interesting by keeping the students apprised of the course and lesson objectives. Not knowing the objectives leads the student to confusion, disinterest, and uneasiness. Instead instructors should guide their students in exploration and experimentation, to help them develop their own capabilities and self-confidence.
For instruction to produce the desired results, instructors must carefully and correctly analyze the personality, thinking, and ability of each student. Students who have been incorrectly analyzed as slow thinkers may actually be quick thinkers, but act slowly or at the wrong time because of lack of confidence. Slow students can often be helped by assigning sub goals which are more easily attainable than the normal learning goals. This allows the student to practice elements of the task as confidence and ability grows.
Apt students also create problems. Because they make less mistakes, they may assume that the correction of errors is unimportant. Such overconfidence results in faulty performance. A good instructor will constantly raise the standard of performance demanded of apt students and will demand greater effort.
Flight instructors fail to provide competent instruction when they permit their students to get by with a substandard performance, or without learning thoroughly some item of knowledge pertinent to safe piloting. The positive approach to flight instruction points out to the student the pleasurable features of aviation before the unpleasant possibilities are discussed. One example of a positive approach is to include a normal round-trip flight to a nearby airport on the first instructional flight.
Anxiety, or fear, is probably the most significant psychological factor affecting flight instruction. The responses to anxiety vary greatly, ranging from hesitancy to act, to the impulse "to do something even if it's wrong." Some students may freeze in place and do nothing, while others may do unusual things without rational thought or reason. Normal reaction to anxiety can be countered by reinforcing the student's enjoyment of flying, and by teaching them to treat fear as a normal reaction rather than ignoring it. Normal individuals react to stress by responding rapidly and exactly, within the limits of their experience and training. Abnormal reactions to stress are evidenced by:
Autonomic responses, such as sweating, rapid heart rate, paleness, etc.
Inappropriate reactions, such as extreme overcooperation, painstaking self-control; inappropriate laughter or singing, very rapid changes in emotions, and motion sickness under stress
Marked changes in mood on different lessons, such as excellent morale followed by deep depressio
Severe anger at the flight instructor, service personnel, or others.
So you think you have what it takes to take the next step in your flying career? Instructing can be an extremely fun and rewarding experience for any aviator. The majority of the information discussed above is all available in the Aviation Instructors Handbook (FAA-H-8083-9A). The information contained in this book will be required knowledge for anyone wishing to obtain a flight or ground instructor certificate. I would also encourage you to check out The Flight Instructor Survival Guide by Arlynn McMahon. It's an insightful, funny at times and enjoyable read. Also a great present for your instructor (hint, hint)!