Monday on the blog we briefly discussed runway incursions and recommended practices for pilots to avoid such an occurrence. As air traffic grows and airports become busier, both general aviation and commercial, runway incursions become more of a growing concern to pilots and airport operators. In an effort to cut down on the potential of surface movement issues the FAA has implemented programs such as defining runway hotspots and identifying standardized taxi route.
Runway Hotspots
ICAO defines runway hotspots as a location on an aerodrome movement area with a history or potential risk of collision or runway incursion and where heightened attention by pilots and drivers is necessary. Hotspots alert pilots to complex or potentially confusing taxiway geometry that could make surface navigation challenging. Whatever the reason, pilots need to be aware that these hazardous intersections exist, and they should be increasingly vigilant when approaching and taxiing through these intersections. These hotspots are depicted on some airport charts as circled areas. [Figure 1-6] The FAA Office of Runway Safety has links to the FAA regions that maintain a complete list of airports with runway hotspots at http://www.faa.gov/airports/runway_safety/.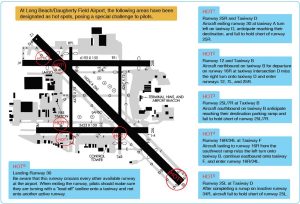 Standardized Taxi Routes
Standard taxi routes improve ground management at high-density airports, namely those that have airline service. At these airports, typical taxiway traffic patterns used to move aircraft between gate and runway are laid out and coded. The ATC specialist (ATCS) can reduce radio communication time and eliminate taxi instruction misinterpretation by simply clearing the pilot to taxi via a specific, named route. An example of this would be Los Angeles International Airport (KLAX), where North Route is used to transition to Runway 24L. [Figure 1-7] These routes are issued by ground control, and if unable to comply, pilots must advise ground control on initial contact. If for any reason the pilot becomes uncertain as to the correct taxi route, a request should be made for progressive taxi instructions. These step-by-step routing directions are also issued if the controller deems it necessary due to traffic, closed taxiways, airport construction, etc. It is the pilot's responsibility to know if a particular airport has preplanned taxi routes, to be familiar with them, and to have the taxi descriptions in their possession. Specific information about airports that use coded taxiway routes is included in the Notices to Airmen Publication (NTAP).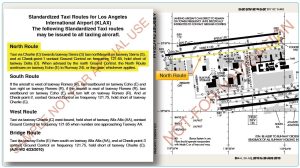 The best way you as a pilot can prevent a runway incursions is by being familiar with your surroundings and understanding the airport environment and standardized procedures that are in place. The FAA Safety Team has put together an excellent video and taxi test that will test your knowledge of procedures and operations on the airport movement area. I encourage you to spend 60 minutes and take the course.